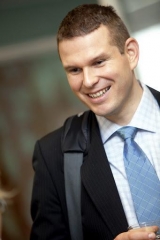 Department of Political Science
Doctoral School of Political Science, Public Policy and International Relations
Energy Policy Research Group (EPRG)
Building:
Oktober 6 u. 12
Phone number:
+36 1882-3169
Qualifications:
Robinson-Martin Security Scholar from Prague Security Studies Institute (2004)
Bc. in Political Science and International Relations from Charles University in Prague (2005)
M.A. (distinction) in International Relations and European Studies from Central European University in Budapest (2006)
Academic/Professional Experience and Achievements:
Andrej is a graduated PhD student at Political Science Department, Political Economy track, researching coping strategies of small, open, economies in transition, with their energy import dependence on the case of Czech Republic, Hungary and Slovakia. His academic interests focus on issues of Political Economy of energy, security, and government-corporate relations. Information about his professional experience, publications and presentations can be accessed via his personal website.
Affiliations:
Department of Political Science
Doctoral School of Political Science, Public Policy and International Relations
Academic/research topics:
energy security
international security
central europe
Energy import dependence