Radu Dudău talks about energy security in the Black Sea Basin
16/10/2014
Energy Security in the Black Sea Basin: Challenges and Options
On the 7th of October CEU has welcomed Radu Dudău, an Associate Professor of International Relations at Bucharest University, for an hour long address to students and experts as a part of the Energy Policy Research Group framework. In the events of Ukrainian crisis, the topic of Energy Security in the Black Sea Basin, attracted a large number of attendants.
After the introduction held by Michael LaBelle, Assistant Professor in the Department of Environmental Sciences and Policy (CEU), Radu Dudău pointed out that his background in physics and philosophy allowed him to develop a broad spectrum of interests. He has recently co-founded a Bucharest based non-profit, independent think tank specializing in energy policy, market analytics and energy strategy, as the importance of strategic options in the Black Sea basin is growing.
The Black Sea is bordered by six countries. However, according to Radu Dudău, the definition of the basin is becoming blurred as Moldova or Greece are being regarded as part of the wider Black Sea region. Nevertheless, what is essential to consider about the Black Sea basin is that "it is a transit region to European markets", Dudău said.
Few recent geopolitical developments were of crucial importance when discussing energy security issues. Radu Dudau highlighted the importance of the Russia-Ukraine crisis, the South Stream project and the role of Romania's recently discovered gas supplies for the energy security of the region.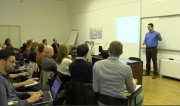 One of the biggest energy challenges awaiting Ukarine is "going through the winter", Dudău said. As the gas transit to Ukraine stops and still continues to Europe, "Ukraine's pivotal role in Russia's gas business" is reinstituted, Dudău pointed out. Since Ukraine's gas storage is low, it relies on a little portion of gas transited from the West as a secure energy supply. However, Radu Dudău pointed out the paradox that through the same pipelines Russian gas is being resold to Ukraine via reverse flow from Slovakia.
Russian-Ukraine crisis makes Eastern European countries concerned in particular, as they largely depend on the Russian gas, like Bulgaria. In this context, Romania comes as an exception. "As we are only 10% dependant on gas imports, we are not so concerned", Dudău said. Even more, Romania could potentially assist its neighbors with energy supplies, given the necessary technical capacity, Dudău explained. Nevertheless, "the Ukrainian crisis is about an immediate threat", the speaker pointed out.
Considering the role of the European Union, Radu Dudău reminded that it has made the commitment to Ukraine's energy security and the worst one could do in this critical situation is to expose country to Russian coercion by bypassing through pipelines. Thus, at this point in time, the South Stream project appears particularly questionable and does not seem as an adequate energy policy path to be taken today.
In a long-run Romania could be expected to increase its contribution in the maintenance of the energy security in South East Europe. However, it has to face numerous challenges, including the development of technical infrastructure for gas transition as well as deal with the complex geopolitical situation. Now, it has a new de facto neighbor in the Black Sea region - Russia that has annexed Crimea in March 2014. Economic consequences of this political action are unclear, the legal situation is tricky, Radu Dudău says, and adds that "offshore is a big deal for Romania".
Neringa Stropute
Guided search
Click a term to initiate a search.